Welcome to November! We're midway between "time to take down the strings of pumpkin lights" and "let's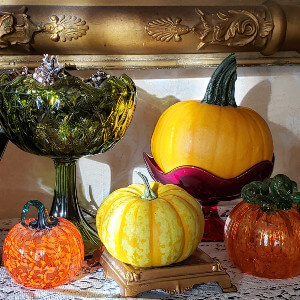 hang the mistletoe." After a very busy October–the busiest in the history of our reservation calendar—I am grateful for a slower-paced November and time to count my blessings. During just this past month we welcomed guests from California, Massachusetts, New York, North Carolina, Virginia, Tennessee, Arizona, Ohio, Illinois, Pennsylvania, Maine, South Carolina, New Jersey, Washington, DC, and Maryland. Among the reasons for their visits: weddings, business travel and job interviews, visits with family and friends, concerts at Merriweather, and "just passing through". I'm thankful for neighbors who have recommended LMH to friends and family, and thankful for the guests who have taken time to write glowing reviews on TripAdvisor describing their experiences at LMH. We're proud to offer comfortable lodging that Laurelites gladly recommend to their out-of-town family and friends.
After a covid-cautious closing last winter, we are fully open this year and look forward to local holiday traditions. Though there are too many area events to list, I'll mention a few of my favorites:
– Holiday Open House at The Laurel Museum and gift shop, December 3 –5, noon – 4 p.m.
– Lighting of the historic Bollman Bridge in Savage.
– The Symphony of Lights, a drive-through light show, at Merriweather Post Pavilion in Columbia.
– Unique "small business" shopping in Ellicott City, Laurel, and Savage Mill, and at local church Christmas bazaars. St. Francis of Assisi Parish in Fulton, annual bazaar is scheduled for November 12, 5 – 9 p.m., and November 13, 9 a.m.– 3 p.m.
– A visit to Washington, DC, to see the national Christmas tree on the White House Ellipse. The tree is traditionally surrounded by smaller trees decorated with handmade ornaments from 56 states and territories.
Our upcoming weekends are filling up. Take time now to book a room for your winter get-away at Laurel Manor House Bed and Breakfast.