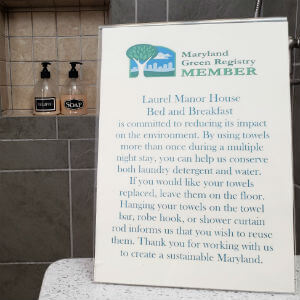 We recently celebrated the January 5th birthday of Edward Phelps, born in 1861. At the age of 27 Mr. Phelps was a successful businessman when he built his "mansion" which we now call Laurel Manor House Bed and Breakfast. During his 7-year tenure as mayor, the residents of Laurel witnessed the installation of electric lights, waterworks, an electric railroad between Laurel and Washington, DC, and the construction of the county's first public high school (which is just a half-mile down the road on Montgomery Street.) Mr. Phelps clearly had his eye on improving Laurel's future.
In our care of his home, Dave and I strive to honor Edward Phelp's legacy. During our 7 years of renovating and rebuilding the Phelps Mansion, we carefully removed doors, hardware, and trim boards, preserving as much of the original trim and hardware as possible. We donated unwanted materials, such as bathroom fixtures, cabinetry, and pine flooring to Community Forklift, a nonprofit re-use and salvage center in Edmonston, Maryland, and purchased salvaged building materials to the greatest extent practical. We've taken careful measures to preserve this house for future generations, while giving consideration to performing renovations in an earth-friendly manner. We purchased new fixtures and appliances with a goal towards conservation and energy efficiency. For example, we replaced our home's furnace and air conditioning with modern, high-efficiency units. And the water heater is tankless, providing hot water on demand and not using energy at other times. The bathroom fixtures meet modern standards, and the washer and dryer are energy- and water-efficient models. We replaced incandescent light with LED and CFL bulbs, and we illuminate our landscaping with solar lights. I like to tell our guests that the house they see is 19th-century– what they can't see is 21st-century. We're proud of our success in bringing modern comfort to this elegant Victorian.
You may have noticed the "Maryland Green Registry" logo on our LaurelManorHouse.com homepage. It represents our participation in Maryland Green Travel, a voluntary program which recognizes businesses in the tourism industry committed to reducing their environmental impact. Laurel Manor House Bed and Breakfast is proud to be listed among "green travel" businesses as we continue to incorporate environmentally friendly practices in our daily lifestyle. Guests notice these practices, e.g. utilizing bulk soap dispensers instead of individual soaps and shampoos, and using water pitchers and filtered water to minimize the use of single-use bottles, and have expressed their appreciation of our "green" priorities.
As I have previously stated: "there is something inherently cozy in the bones of this 130-year-old house." We treasure its history and have prepared it for the future. We invite you to enjoy with us this unique and welcoming lodging in Old Town Laurel.