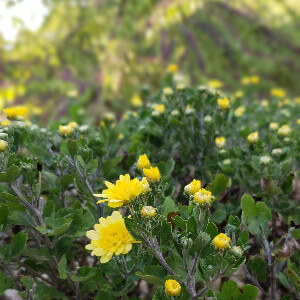 Not a fan of summer's hazy, hot, and humid weather, I've been anxiously awaiting autumn. According to my calendar, it's here. But, with 90° heat this week, we can't rely on the temperature gauge as an indicator of the new season. Let's look to these five more reliable signs of autumn and hope Mother Nature gets with the program soon:
1. Pumpkin-spice on coffee shop menus. When I spotted the season's first pumpkin-spice in a grocery store back in July, it put me in the mindset of cornstalks and cornucopias. Pumpkin-spice is an early harbinger of autumn, indeed!
2. Mums and other fall flowers in garden centers and starting to bloom in our flower beds.
3. Walnuts! Our two black walnut trees are heavily laden with their fruit this year. The walnuts have begun falling and are starting to blanket the driveway. Meanwhile, our hickory tree is a favorite of the local squirrels who leave nut crumbs everywhere! A daily chore this time of year: cleaning up nuts from our driveway and walkways.
4. Fall festivals –A few of our favorites:
Locally, the Laurel Board of Trade sponsors Riverfest, which takes place on Sunday, September 29, noon-5pm at Riverfront Park. Come for the hay rides, food, and live music.
Maryland Renaissance Festival, located on Crownsville Road near Annapolis for more than thirty years, this local Rennfest is reportedly the second largest in the United States. Check out their website for tickets and schedule. https://rennfest.com/
Fall and Oystoberfest at Laurel Park Racetrack on Saturday, October 26. Check out this and other happenings at Laurel Park. http://www.laurelpark.com/
5. Football –If you're coming to town for a Maryland Terrapins home game, reserve a room at Laurel Manor House Bed and Breakfast for a peaceful alternative to lodging in College Park –we're just up the road. Upcoming home games are scheduled for September 27, October 19, November 2 (Homecoming), and November 23. Check our website for availability. https://www.laurelmanorhouse.com/