L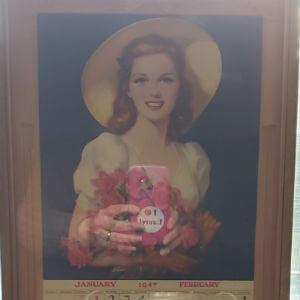 iving in a 19th century house I often wonder how its earliest residents used the rooms that I enjoy every day. I imagine Edward, Savilla, and their nine children coming and going through our front door, sitting in front of a fireplace –as I am currently doing– or eating in the dining room. I think about these former residents marveling at our 21st century gas fireplaces and explaining to them that the power to start the flames comes from the AA batteries in the remote control. Too warm? Just push the button on this remote control to turn on the ceiling fan. For the central heat and air conditioning, just set the thermostat to the temperature you want– it's magic! Do you want to see what's happening in the news nowadays? Push this button to turn on the television! On second thought– maybe today's news wouldn't interest you– let's turn our attention to the den where we have displays of NASA's space exploration!
Last weekend I attended a presentation by The Laurel History Boys, three Laurel natives who enjoy preserving and documenting the history of their hometown. The city of Laurel is celebrating it's 150th anniversary this year, so our calendar is filled with events highlighting our history. At the event I took a picture of an artifact on display: a 1947 Gavriles calendar. 1947 was the year Clarence and Frances Steinbauer and their four children moved into the "Phelps Mansion" (now Laurel Manor House Bed and Breakfast) and I imagined life in this home in the mid-20th-century. When I snapped the photo, my hands and cell-phone (what would Ed and Savilla think of that bit of technology?!) reflected in the glass of the framed calendar making it appear as if the smiling lady pictured on the calendar was taking a selfie in a mirror. The juxtaposition of the charming lady from bygone years with modern technology made me smile, and struck me as a perfect analogy to this old house. At Laurel Manor House Bed and Breakfast we embrace the theme for this year's sesquicentennial: preserving our past, acknowledging our progress, celebrating our promise.
Here's a link to WJLA channel 7 news coverage of the kick-off to Laurel's 150th Anniversary celebration (featuring me and Laurel Manor House Bed and Breakfast!): http://bit.ly/Laurel150News
Learn more about how the city is celebrating it's sesquicentennial year: https://150.cityoflaurel.org/
And learn more about Laurel's history by visiting the Laurel Historical Society website: https://www.laurelhistoricalsociety.org/
If you're planning a trip to the Washington, DC/Baltimore/Annapolis area, or if you're coming to our beloved Laurel to attend a sesquicentennial celebration event, you'll find us conveniently located on the quiet end of Old Town, with an easy walk to Main Street.