Here a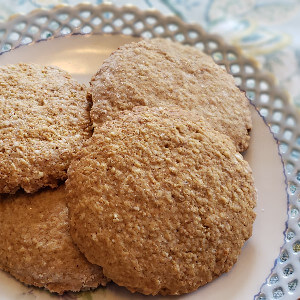 re a few things you might like to know about me:
I like word puzzles. I like to bake, and try new recipes. I am a little bit competitive.
A friend initiated "trivia night" as a weekly social diversion while we are spending so much time at home. At 7:30 on Tuesday nights we meet through a video-conference call. BYOB.
I enjoy games in general, but am not particularly sharp when it comes to trivia. My teammate (husband Dave) is a NASA engineer; he's pretty smart. Our realms of knowledge mostly complement each other: Dave knows the answers to many of the science, history, and geography questions, and he looks to me to answer the music, food, and pop-culture topics. And I love word puzzles! So I got rather excited when this week's trivia night included an anagram – my forte, not Dave's. Our team's success in answering this question rested on my shoulders! So, here it is: Name the dessert in the anagram: "a rocket arc."
I eventually figured out the answer that our host would count as correct. But shouldn't my first answer "oat cracker" also count? Perhaps my team should have earned extra credit for finding TWO answers? But, other than anagram for "a rocket arc" what is an oat cracker? I'm not sure I've ever had one, but such food exists…right? I thought: If I find a recipe for Oat Cracker with a sufficient quantity of sugar and butter can I call it a dessert and validate my answer and word unscrambling prowess? Google to the rescue!
I found this "English Oat Crackers" recipe, courtesy of Ina Garten, on foodnetwork.com:
Ingredients:
3 cups old-fashioned oats
1 cup all-purpose flour
1/2 cup lightly packed light brown sugar
1 teaspoon kosher salt
1/2 pound (2 sticks) cold, unsalted butter, diced into 1/2″ pieces
3/4 teaspoon baking soda
1/4 cup warm water
Fleur de sel (I used a light sprinkle of fine-grind salt.)
Directions:
Preheat the oven to 375°. Line two cookie sheets with parchment paper.
Place the oats, flour, brown sugar, and salt in a food processor; pulse until the oats are coarsely ground. Add the butter and pulse 15 to 20 times until the butter is evenly incorporated.
Dissolve the baking soda in the lukewarm water and drizzle it over the crumbs in the food processor. Pulse until the mixture is evenly moistened and can be pressed into balls that will hold together.
Roll dough into 1 3/4" round balls. Place 12 evenly-spaced balls of dough on each prepared cookie sheet. Flour the bottom of a flat-bottomed 3" diameter glass and use it to flatten each cracker to 1/8" thick. Sprinkle with the fleur de sel and bake for 20 to 25 minutes until the crackers are golden brown on the edges. Serve warm or at room temperature.
I baked a batch today –yum! – and will definitely save this recipe. But, honestly, I probably won't file it under "dessert". By the way, the correct answer to the anagram – too obvious: carrot cake.